Christi Thomas's Story: My inspiration! [Post #3 10 AM] [I'm all showered! My new Loreal Shampoo smells divine!! Anyway--off to get some grub now]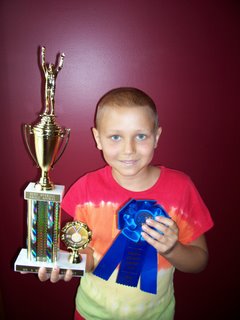 On September 11, 2002, Christi Thomas was diagnosed with Neuroblastoma – stage IV (the worst of the worst). For a bright, active, outgoing five year old girl that was thought to be perfectly healthy, her family and friends were shocked and stunned!!
From September to December 2002, Christi endured four rounds of intense chemotherapy on Protocol #3891 at Children's Hospital in Columbus. While her tumor shrunk considerably, the cancer in her bone marrow remained. She was given a 10% chance of survival if drastic treatment plans were not made.
Therefore, it was deemed medically necessary to transfer Christi's care to New York City's Memorial Sloan Kettering Cancer Center . This world renowned hospital sees more Neuroblastoma patients each year than any other institution in the world. In late December of 2002, the Thomas Team relocated to the Ronald McDonald House of NYC hoping by the grace of God to save their cherished daughter's life. They lived there for nearly nine months and met the sweetest of folks.
Christi's treatment in NYC included three high dose rounds of chemotherapy from January through March. Unfortunately, the cancer in Christi's bone marrow still did not respond. The oncologists again lowered her odds of survival and declared her disease "refractory" meaning no longer responding to chemotherapy agents. Surgery was cancelled and things appeared dismal at best. In April of 2003, with virtually no chance of survival, Christi was enrolled in an experimental Phase One clinical trial. During this terribly (daily) painful treatment process Christi was injected with two agents - 3F8 mouse antibodies and beta glucan. After the maximum treatment allowed (four rounds over four months) her bone marrow disease was reduced roughly 25%, but not eliminated.
In July of 2003, after finishing the Phase One Trial and all of its required testing, Christi and her family went on her Make-a-Wish Foundation trip to Japan.
Within twenty-four hours of arriving back in NYC from her unbelievable Make-a-Wish dream trip, she was wheeled into the operating room with the attempt to fully resect her tumor, as well as the surround lymph nodes that it had spread. Dr. Lauaglia reported that it was a full resection and that the tumor was active Neuroblastoma. He also inserted a mediport to allow her next treatment to continue.
Next, the decision was made to try a chemo she had not yet tried called Irinotecan. (a phase II study). That low dose chemo attempt was administered for two straight weeks. Because Irinotecan typically does not lower the blood counts very much, its side effects are manageable. Christi was able to attend school (for the very first time) where she thrived in second grade and she also went back to ballet classes after missing an entire year of dance classes too. She received her chemo after school through October of 2003 and as always never complained about the treatments or the side-effects.
Committed to "not going down without an all out fight" and never wanting to look back at not trying something, on November 2nd, 2003 Shayne and Angela enrolled and started their beloved little gal in a very risky Phase I trial at CHOP - being the third child in the USA to ever attempt this dosage. She was injected with the high dose MIBG radioactive isotope which actually made her radioactive and therefore kept her in isolation. Everything that she touched was disposed of as radioactive waste. Two weeks later, this high dose MIBG (internal radiation) experiment was repeated for a second time. With dangerously low blood counts, on January 2nd of 2004 her previously harvested stem cells were transplanted back into her - literally restarting her young life. Sadly, following the scans and tests, it was learned that the high dose MIBG (radiation) did nothing to reduce her tumor burden.
Now facing very low blood counts, Christi no longer qualified for any treatment options - except for 13-cis-retinoic acid. This theory behind this drug is that it matures Neuroblastoma cells. On January 27th, 2004 Christi started this treatment at home where she completed three cycles before returning to CHOP for disease evaluation. It was crushing news to learn that the tests/scans conducted in April of 2004 indicated that the amount of disease in her bone marrow increased and her cancer had progressed while on 13-cis-retinoic acid.
On April 22nd, 2004 Christi started yet another Phase I experimental trial (ABT - 751). In test tubes and in animals, ABT - 751 kills cancer cells. ABT - 751 works by binding to a critical protein in cells (tubulin). In studies, ABT is able to kill cancer cells that are resistant to chemotherapy (exactly Christi's situation). After one cycle, Christi returned to Philadelphia on May 13th of 2004 (the day after her 7th birthday) for testing. Her oncologist labeled her response as "stable disease with a hint of improvement". After waiting for Christi's blood counts to recover, Christi started her second cycle of ABT (21 days of oral chemo pills with a seven day break before repeating the cycle) on June 3rd, 2004 . While on this amazing drug for over 15 months she enjoyed a tremendous quality of life by going to school full time and taking ballet, piano and karate lessons. She also participated in Girl Scouts and religion classes.
MIBG and MRI scans were conducted in early July of 2005 - after her 15th round of ABT, which sadly indicated that a new spot of cancer was indeed growing in her rib. She returned to CHOP in mid-August 2005 where sadly tests/scans concluded that in just four weeks her disease rapidly progressed with the cancer being spread throughout her entire skeletal system. She immediately began yet another Phase I clinical trial - the Irino/Temador/Cebrex combination of oral chemotherapy agents.
While difficult to swallow and keep down - and not without much nausea, Christi successfully completed two rounds of the yucky tasting chemos and then returned to Philadelphia in late September '05. Tests/scans at CHOP indicated that the disease which had spread significantly from her skull to her knees was reduced again to the new area discovered July 05 - a rib (and her bone marrow, of course). Therefore, she completed four more rounds. She also had two weeks of external radiation to the new tumor in December of 2005. Sadly, test results in Philadelphia confirmed that the Irinotecan and Temador chemos were no longer keeping Christi's cancer stable. Again, the disease had spread to: skull, arms, ribs, pelvis, and legs.
With perfect timing, due to Christi's progressing disease, the clinical trial the Thomas's had been waiting over two years for finally opened (Phase II hu.14.18 interleukin-2 Fusion Protein trial) and Christi begin this study on Jan. 9, 2006 at CHOP. The side effects were nasty (high fever, chills, and pain) yet as all later learned Christi's cancer was rapidly progressing and perhaps that was causing the horrible pain.
Because the pain never really stopped and because a week later "lumps" were popping out Christi's skull, she flew back to Philadelphia in terrible condition with Dr. Maris gravely worried.
She immediately started the European protocol of high dose chemo (Topotecan, Vincristine, Doxorubicin) on January 31, 2006 which made her terribly sick, so sick that her blood counts didn't recover to endure a second round. Instead topotecan and vincristine were reduced to 50% of the dosage and she endured that for her second round.
Tests and scans conducted on March 15, 2006 showed that her cancer had been reduced by 90% - definitely worth the hair loss, mouth sores, blood transfusions and other side effects! On March 21, 2006 she will again repeat the TVD combo of very harsh chemos. This will be conducted while in the hospital at CHOP.
The Thomas Team would like to thank all of "Christi's Crew" for their love and support during the most challenging times and also to say thanks for continuing to serve as Christi's tremendous prayer warriors. The Thomas Team believes, "God performs miracles EVERY day. We pray that Christi will be one of them and will be a testament to His work." Thank you for your continued support as Christi continues to fight for her life in this bloody war called cancer.
Nikki's notes: As I've said before, Christi Thomas is my hero. Around ever turn, she has had nothing but bad news, but she keeps going! She gets up, keeps going, and beats all the odds! She has taught me more in her 9 years than I know at 29! Please read Christi's mom's (Angela) post on
Christi's site
today! July 29th has much significance in their family!
Address for Cards:
"The Thomas Team"
P.O. Box 152
Old Fort, OH 44861
www.christithomas.com & www.christithomas.blogspot.com